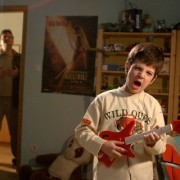 Genre: Short Film
Duration: 17,20 min
Year: 2006
Screenplay: Goran Vojnović
Director: Goran Vojnović
Cast: Valter Dragan, Maruša Oblak, Denis Černe Berčič, Marijana Brecelj, Gregor Bakovič, Ivanka Mežan, Jurij Souček, Ajda Toman, Nina Ivanišin
Povezave: www.film-sklad.si
Story
Tone believes that his little son is a sexual maniac because the boy supposedly peeked under his teacher's skirt. Tone is having such a hard time trying to figure out the reasons for this misfortune that he is driving his wife into despair. When a friend implies that sexuality is a matter of genes, Tone concludes that he himself must be a sexual maniac.
Gallery
Crew
Screenplay: Goran Vojnović
Director: Goran Vojnović
Director of Photography: Radovan Čok
Editor: Janez Bricelj
Composer: Čopme
Sound Recordist: Jože Trtnik
Sound Designer: Boštjan Kačičnik
Production Designer: Urša Loboda
Costume Designer: Zvonka Makuc
Make-up Artist: Mirjam Kavčič
Producer: Franci Zajc
Cast
Tone
Valter Dragan
Zdenka
Maruša Oblak
Marko
Denis Černe Berčič
gospa Starčič
Marijana Brecelj
Milan
Gregor Bakovič
Irena
Ivanka Mežan
Zlatko
Jurij Souček
Young Teacher
Ajda Toman
Salesgirl
Nina Ivanišin
Goran Vojnović
Goran Vojnović was born in 1980. His first fiction film "Fužine Rules" won the prize for the best film at the Mexico City Student Film Festival; and his diploma film "Season 90/91" was awarded the Radio Belgrade prize at the Belgrade Student Film Festival. After completing his studies at the Ljubljana Academy of Radio, Film and Television (AGRFT), Vojnović in collaboration with Marko Šantić wrote the screenplay for "Good Luck, Nedim" – this film won Šantić the title of debutant of the year at The Days of Croatian Film. Vojnović currently earns his living as film publicist and assistant director, but he would be most happy if he could live off making films without having to rely on his wife's income.
Filmography:
2003 – Fužine rules, short film
2004 – Season  90/91, short film
2005 –  Good luck, Nedim, screenplay by  Goran Vojnović
Co-producer
Radio Televizija Slovenia
Technical services
Film studio Viba Film
Co-funding
Slovenian Film Fund
Technical data
Format: 35mm; 1:1,85; 24 fps
Dolby digital 5.1.
Festivals
•    International premiere on the prestigious Festival Cinema Jove in Valencia, Spain.