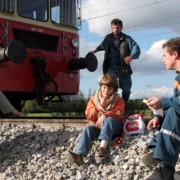 Genre: Short Film
Duration: 19,25 min
Year: 2007
Screenplay: Miran Zupanič
Director: Miran Zupanič
Cast: Iva Krajnc, Julijana Zupanič, Vladimir Vlaškalič, Barbara Vidovič,…
Links: www.film-sklad.si.
Story
A Slovenian story about dark sides of the otherwise successful transition from socialism: many factories went out of business, workers became redundant, and those employed are very often victims of ruthless exploitation. When I learned about what some women have to sacrifice in order to keep their jobs in a factory in the Štajerska region, I decided to make a film about that. The film tells a story about the life of a seven-year-old girl, Jana. While her father and mother are working, Jana has chickenpox and cannot go to school. Being frolicsome just like all children, she goes out and rambles around towards rising dangers that are threatening her.
Gallery
Crew
Screenplay: Miran Zupanič
Director: Miran Zupanič
Director of Photography: Simon Tanšek
Editor: Jaka Kovačič
Composer: Aldo Kumar
Sound Recordist: Jože Trtnik
Sound Designer: Boštjan Kačičnik
Production Designer: Miha Ferkov
Costume Designer: Alenka Bartl
Make-up Artist: Mirjam Kavčič
Producer: Franci Zajc
Cast
Sonja
Iva Krajnc
Jana
Julijana Zupanič
Rudi
Vladimir Vlaškalič
Teacher
Barbara Vidovič
Nurse
Mateja Pucko
Cook
Urška Vučak
Boss
Tadej Toš
Reader
Tomož Gubenšek
Manager
Helena Peršuh
Railwayman
Damjan Trbovc
Miran Zupanič
Born in 1961. He graduated in law and film and television directing from University of Ljubljana. He works as a university professor of film directing. He directs documentary and feature films. His feature films Operation Cartier and Radio.doc participated in many international film festivals and received several awards. Operation Cartier was awarded the Circom Regional Grand Prix Fiction in 1992 and Circom Regional Award in 1992 for Best Direction while in 1995 Radio.doc was awarded the Golden Metod Badjura Award.
Selected filmography:
1990 –Operation Cartier, television feature film
1993 –The Eyes of Bosnia, documentary film
1995 – Radio.doc, television feature film
2001 –Rascals!, feature film
2003 –Separations, documentary film
2004 –Kocbek-A poet in the Abyss of History, documentary film
2006 – Aufbiks!, documentary film
2007 – Made in Slovenia, short fiction film
2007 –Children from Petriček Hill, documentary film
2008 –  Couples at Stake, television feature film
Co-producer
Radiotelevizija Slovenija
Technical services
Film studio Viba Film
Co-funding
Slovenian Film Fund
Technical data
Format: 35mm; 1:1,85; 24 fps, color
Dolby digital 5.1.
Festivals
•    Festival of Slovenian Film, Portorož, 7-14 October 2007, Slovenia.
In competition
•    55th Belgrade Documentary and Short Film Festival, Belgrade, 26-30 March 2008, Serbia.
In competition
•    Cyprus International Short Film Festival, Nicosia, 25-27 April 2008, Cyprus.
In competition
•    Tribeca Film Festival, New York, April 23 – May 4, USA.
Shorts: Eye Opener
•    Asuni Film Festival, Asuni, 4-8 September 2008, Italy.
•    17th CineRail Festival, Paris, 25-31 March 2009, France.
In competition.