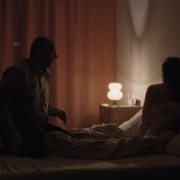 Gener: Drama
Duration: 65 min
Year: 2012
Sceenplay: Bruno Hájek, Jakub Felcman, Olmo Omerzu
Story: Bruno Hájek
Director: Olmo Omerzu
Cast: Natálie Řehořová, Martin Pechlát, Jiří Černý, Vojtěch Machuta, Jan Vaši, Milan Mikulčik
Pictures, videos: ftp://ftp.arsmedia.si, (username: arsmedia-press, password: Arsmedia). For FTP access please use clients such as Filezilla, CyberDuck…
Story
Two children find themselves in a young girl's flat with two other men and here they experience their first encounter with love and sexuality. The children lose track of time. They were expected home long ago. They drink, throw up and are intoxicated by love and "the shameless, unbridled and licentious" world in which David, Kateřina and Štěpan live.
"This isn't a classic childhood or coming of age story, but an allegory where male and female archetypes play out in the world of children. There is a border between the children's and adults' worlds, but both sin and innocence pass freely, ignoring society's bans and taboos." Olmo Omerzu, Director.
Gallery
Crew
Screenwriter: Bruno Hájek, Jakub Felcman, Olmo Omerzu
Director: Olmo Omerzu
Director of Photography: Lukáš Milota
Set Designer: Jan Kalous
Costume Designer: Marjetka Kurner Kalous
Make-up Artist: Michaela Krepsova
Editor: Janka Vlčková
Sound: Ladislav Greiner
Producer: Jiří Konečný
Co-producer: Franci Zajc, Boštjan Ikovic, Ondřej Šejnoha
Cast
Natálie Řehořová, Martin Pechlát, Jiří Černý, Vojtěch Machuta, Jan Vaši, Milan Mikulčik
Olmo Omerzu (Born in 1984, Ljubljana, Slovenija), Director
Olmo Omerzu graduated from film directing at The Film and TV School of the Academy of Performing Arts, Prague (FAMU).
2012 A Night Too Young, feature
2008 The Second Act, medium lenght
2006 Love, short fiction
2005 Masks, short fiction
……………
Director Olmo Omerzu, film will have the world premier in Berlin, 13. February 2012.
……………
Producer
Endorfilm
Co-Producer
Arsmedia (Slovenia)
Studio FAMU (Czech Rep.)
Co-Funding
Slovenian Film Centre
State Fund for Support of Czech Cinematography.
Festivals and awards
2012 Priliš mláda noc (Mlada noc, 65 min) premier at Berlinale 2012 (selection of Forum)
Award for best film  – Neisse Film Festival 2012
Award for best directing – Voices Vologda 2012
Award for best film  – FAMU fest Praha 2012
Award RWE – discover of a year (award of CZ film critics 2013)