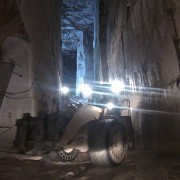 Genre: Documentary Film
Duration: 50 min
Year: 2014
Screenplay: Rafael Vončina, Jurij Gruden
Director: Jurij Gruden
Featuring: Igor Tuta , Ivo Kralj, Matejka Belle, Stanislav Renčelj, Mitja Gulič, Robin Soave, Marina Soave, Furio Princivalli, Zvonko Legiša, Daniele Pasini, Jasmina Rijavec, Ivan Pertot, Gabrijel Jeram, Pavel Gulič, Jernej Bortol, Eva Depetris, Giulia Depetris, Josip Orbanić, Gorazd Humar, Damjan Švara…..
STORY
This is an intimate story about Karst men and Karst stone established through a two-thousand-year-long history and is as such intertwined with the urge of survival, tradition, culture, sport, leisure time and fun. From one's birth to one's death.
GALERY
CREW
Screenplay: Rafael Vončina, Jurij Gruden
Director: Jurij Gruden
Director of Photography: Radovan Čok
Editor: Jurij Gruden
Composer: Dario Savron
Sound Recordist: Andraž Čok, Andraž Kadunc
Sound Designer: Boštjan Kačičnik
Producer:  Boštjan Ikovic
FEATURING
Igor Tuta
Ivo Kralj
Matejka Belle
Stanislav Renčelj
Mitja Gulič
Robin Soave
Marina Soave
Furio Princivalli
Zvonko Legiša
Daniele Pasini
Jasmina Rijavec
Ivan Pertot
Gabrijel Jeram
Pavel Gulič
Jernej Bortol
Eva Depetris
Giulia Depetris
Josip Orbanić
Gorazd Humar
Damjan Švara
JURIJ GRUDEN
Jurij Gruden graduated from University of Ljubljana, Academy for Radio, Film and TV, in film and TV directing.
Films made during his studies:
City Images (1998), You Need to Love Somebody (2001), Moving Away (2002)
TV dramas made during his studies:
Triangle (2001), Waiting (2003), Enco, Thank You! (2003)
Documentaries:
Edi Šelhaus, I Was There (2007), The Messenger of Slovenian Shores (2008),  At the End of Trieste Street (2010), Music from Trieste to Tarvisio (2010).
Jurij worked as a director's assistant at short and feature films, to mention a few: Feed Me With Your Words (d: Martin Turk, 2012), Seduce Me (d: Marko Santić, 2013)
Living Stone is already Jurij's fifth documentary film.
CO-PRODUCERS
RAI – Regional Office for the Friuli-Venezia Giulia
Co-funding
Slovenian Film Centre