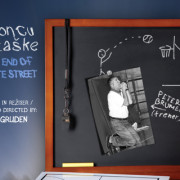 Genre: Documentary Film
Duration: 52 min
Year: 2010
Screenplay: Jurij Gruden
Based upon an idea by: Boris Devetak
Director: Jurij Gruden
Featuring: Peter Brumen, Nena Brumen, Taja Brumen, Jure Brumen, Sergio Tavčar, Walter Vatovec, Saša Lukič, Primož Kirn, Aljoša Redžepovič,…
Story
A combatant and a specialist in marginalized groups work. The man who took the lead of Slovenian deaf men's basketball team for the world summit and the central figure of basketball of Slovenian minority in Italy. Accurate observer, who drags out the best abilities of every player. Vision of the values and coach-philosophy out of the sports frames and vision of his life and work between victory and defeat.
Gallery
Crew
Screenplay: Jurij Gruden
Director: Jurij Gruden
Director of Photography: Aleš Šega
Editor: Jaka Kovačič
Composer: Aljoša Starc
Sound Recordist: Jaka Kovačič
Sound Designer: Boštjan Kačičnik
Producer: Franci Zajc
Featuring
Peter Brumen
Nena Brumen
Taja Brumen
Jure Brumen
Sergio Tavčar
Walter Vatovec
Saša Lukič
Primož Kirn
Aljoša Redžepovič
Jurij Gruden
Born in 1975 in Trieste. In 1996 he entered the Academy of Theatre, Radio, Film and Television; film and television direction. During his studies, he shoot short documentary Images of the City (1998), followed by short feature films You Need to Love Somebody (2001) and Moving Away (2002). Besides feature and documentary films, he also shoot television dramas Triangle (2001), Waiting (2003; Babič Award for Short Student TV Drama), and Enco, Thank You! (2003). Writer and director of the full-length documentary film Edi Šelhaus: I Was There, his first major project (2007) and co-writer and director of documentary film The Messenger of Slovenian Shores (2008).
Used archival material:
Association of the Deaf and Hard of Hearing of Slovenia
Alpe Adria Agency
Personal Archive Peter Brumen
Photos Mik Pavlović
Photos Svetozar Busić
National Museum of Contemporary History of Slovenia
Delo – Documentation
Co-producers
RAI – Regional Office for the Friuli-Venezia Giulia
Slovenian program
Co-funding
Ministry of Culture RS