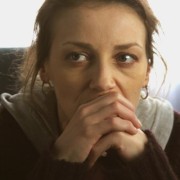 Genre: Short Film
Duration: 15 min
Year: 2006
Screenplay: Martin Turk
Director: Martin Turk
Cast:Robert Prebil, Barbara Žefran, Maruša Kink
Links: www.film-sklad.si.
Story
Iztok and Mateja are a couple going through a crisis because of her jealousy. One day, Iztok realises that a supposedly vacant house is inhabited by a strange creature.
»Jealousy and lack of communication bring destruction, the biggest problem of modern times.«
Gallery
Crew
Screenplay: Martin Turk
Director: Martin Turk
Director of Photography: Radovan Čok
Editor: Janez Bricelj
Composer: Aldo Kumar
Sound Recordist: Jože Trtnik
Sound Designer: Boštjan Kačičnik
Production Designer: Urša Loboda
Costume Designer: Zvonka Makuc
Make-up Artist: Mirjam Kavčič
Producer: Franci Zajc
Cast
| | |
| --- | --- |
| Iztok | Robert Prebil |
| Mateja | Barbara Žefran |
| Creature | Maruša Kink |
Martin Turk
Born in 1978 in Trieste, a member of the Slovene ethnic minority living in Italy. In 1998, began his studies of film and TV direction at the Ljubljana Academy (AGRFT ), and took his degree in 2004. Worked as assistant director on several full-length feature films, including Danis Tanović's No Man's Land, and Ljubljana, the Beloved by Matjaž Klopčič. His diploma work, short film Izlet (The Excursion), won several international awards (Montpellier, Bologna, Wiesbaden).
Selected filmography:
2000 –  Twice a week, short film
2001 – The cloud, short film
2002 – Klara, television short film
2002 – The Excursion, short film
Co-producer
Radiotelevizija Slovenija
Technical services
Film studio Viba Film
Co-funding
RTV Slovenia
Technical services
Film studio Viba Film
Co-funding
Slovenian Film Fund
Technical data
Format: 35mm;1:1,85; 24 fps, color
Dolby digital 5.1.
Festivals
•    9th Festival of Slovenian Film, Portorož, 14-17 September 2006
»Vesna« Award for Best Short Film
•    7th Festival Science + Fiction – Trieste (Italy) 21 – 26 November 2006
In Competition
•    19th Premiers Plans – Angers (France) 19– 28 January
In Competition
•    35th Festival Inertnational De Cine De Huesca (Spain) 7 –16 June 2007
•    22nd Cinema Jove – Valencia International Film Festival  (Spain) 16 – 23 June 2007
In Competition
•    61st Edinburgh Film Festival (UK) 15– 26 August 2007
Official Selection
•    13th Encounter Short Film Festival – Bristol (UK) 21 – 25 November 2007
In Competition
•    29th Festival International Du Cinema Mediteraneen Monpellier (France) 26 October – 4 November  2007
Official Selection
•    15th Capalbio Cinema International Short Film Festival (Italy) 28 June  – 5 July 2008
In Competition