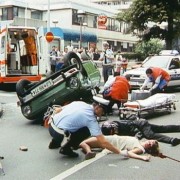 Genre: youth film
Duration: 93 min
Year: 2000
Screenplay: Jane Kavčič
Director: Jane Kavčič
Cast: Tanja Ribič, Borut Veselko, Jan Grilanc, Iva štefančič, Andrej Murenc, …
Links: www.film-sklad.si, www.kolosej.si.
Story
In this day and age, the life of an eight year-old growing boy in a block of flats is not so simple at all and Luka is no exception. His father and mother – both modern parents, are employed. In addition to this, they also have other responsibilities that take up much of their time. Meanwhile, downstairs in the courtyards between the blocks of flats, the children get up to all sorts of mischievous pranks. Luka's mother, who is worried about her son's safety, stops him from participating by preventing him from playing downstairs at all. Only, the school holidays are on and Luka has so much spare time on his hands that he would willingly share it with someone – if he had someone to share it with. Yet, being under house arrest, he is confined to watching television and videos, or playing computer games. The reason Luka is under house arrest is due to a red shoe belonging to the local social worker, which mysteriously turns up in Luka's mother's shoe-cupboard, where Luka had stored it for safe-keeping at the request of the playground bully Bigs. It is when Luka's mother hears the social worker's complaints that she decides to put an end to his freedom …
Gallery
Crew
Screenplay: Jane Kavčič
Director: Jane Kavčič
Director of Photography: Valentin Perko
Editor: Janez Bricelj
Composer: Rok Golob
Sound Recordist: Frane Povirk
Sound Designer: Damijan Kunej
Production Designer: Janez Kovič
Costume Designer: Zvonka Makuc
Make-up Artist: Mirjam Kavčič
Producer: Franci Zajc

Cast
| | |
| --- | --- |
| Luka | Jan Grilanc |
| Luka's Mother | Tanja Ribič |
| Luka's Father | Borut Veselko |
| Neli | Iva Štefanič |
| Žiga | Andrej Murenc |
| Bajsi | Blaš Višak |
| Lukova Grandma | Marija Lojk – Tšar |
| Neli's Mother | Vesna Lubej |
Jane Kavčič
The screenplay writer and director Jane Kavčič and author of a number of resounding radio plays is well known among his peers. Jane made his debut in the film industry as Assistant director to France Štiglic in the highly acclaimed film On our own land (1947). One year later, he had already directed his first documentary entitled The granite of the Pohorje plateau (1948). This was followed by a host of short films and documentaries, as well as an entire range of feature films, the most prominent of which were Action! (1960), A minute for murder (1962) and The fugitive (1973). Among the younger viewers, Jane Kavčič is better known for the highly acclaimed films for children and adolescents he has directed. Among these are The dragon hunt, filmed in Croatia, The invisible battalion, the unforgettable Hang on, Doggy, the endearing film The apprenticeship of the inventor Polž, the informative film for adolescents What a sun and the science fiction film for children Maja and the starboy. Kavčič's films for children and adolescents have reached into the hearts of the public every time, with the film Hang on, Doggy even winning several awards abroad (among these the highest award in its category at the Tehran film festival), in addition to being extremely popular in its home country. What now, Luka? is a continuation of Kavčič's creativity in the field of children's and youth's cinema.
Co-producers
RTV Slovenia
Technical services
Film studio Viba Film
Co-funding
Slovenian Film Fund
Distribution
Slovenian Film Fund
Distribution
A.G. Market
Technical data
Format: 35 mm; 1:1,85; 24/fps, color
Dolby digital 5.1