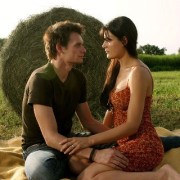 Genre:romantic comedy
Duration:125 min
Year:2007
Screenplay:Marko Naberšnik
Director:Marko Naberšnik
Cast:Vlado Novak, Primož Bezjak, Pia Zemljič, Dario Varga, …
Links: www.film-sklad.si, www.kolosej.si.
Story
Djuro works as an apprentice at master Gajaš's, who is an elderly owner of a garage. The tranquil life of the young apprentice is disturbed by the arrival of a beautiful brunette, Bronja, who is married to Lepec, the local ruffian and pimp. Bronja and Djuro start a risky love affair that does not stay unnoticed. Meanwhile, Gajaš himself cherishes his love fantasies too. He dreams about Severina, a well-known pop singer, who is on a tour and is coming to town. When an opportunity offers him to meet her, Gajaš shivers with excitement. Rooster's Breakfast is a love story. It is set in a small town, almost a village. The protagonists live their quiet and imperceptible lives; however, they all have their own hidden passions, which put up a start to dramatic events.
Gallery
Crew
Screenplay: Marko Naberšnik
Based on the Novel by Feri Lainšček
Director: Marko Naberšnik
Director of Photography: Valentin Perko
Editor: Janez Bricelj
Composer: Saša Lošić
Sound Recordist: Jože Trtnik
Sound Designer: Boštjan Kačičnik
Production Designer: Miha Ferkov
Costume Designer: Nataša Rogelj
Make-up Artist: Mirjam Kavčič
Producer: Franci Zajc
Cast
Pišti Gajaš
Vlado Novak
David Slavinec – Djuro
Primož Bezjak
Bronja Vuksanović
Pia Zemljič
Cveto Vuksanović – Lepec
Dario Varga
Jure Cikuta
Janez Škof
Rajko Roki Malačič
Davor Janjić
Ivan Pavlica
Miloš Battelino
Viktor Brodnik – Zobar
Matija Rozman
Radmilovič
Bojan Emeršič
Postman
Primož Pirnat
Announcer
Gojmir Lešnjak
Milena Cikuta
Mirjam Korbar Žlajpah
Ana
Alenka Cilenšek
Sara
Ana Režek
False Severina
Maja Ajdič
Dancer in the Night Caffee
Anita
Pavlica's wife
Bojana Zemljič
Pavlica's daughter
Petra Petan
Prison guard
Matevž Luzar
Kepa
Psička Kepa
Driver
Feri Lainšček
Radio announcer (voice)
Edita Žugelj
The accompanying band of Severina
»Novi redatelji«
Klemen Dvornik
Simon Dvornik
Miha Mlaker
Nejc Pohar
and
Severina Vučković
Marko Naberšnik
Born in 1973 in Maribor. In 1996 he attended one semester at the New York Film Academy, where he made his first short film. With this film he passed the entrance examination for the study of film and television directing at the Ljubljana Academy for Theatre, Radio, Film and Television (AGRFT). Since 2002, when he graduated from the Ljubljana Academy, he has been working there as an assistant professor. He is currently finishing his master's degree. Since 1999 he has been working as a director at the National Television, where he directed musical and documentary programmes, talk shows and programmes for children. Rooster's Breakfast is his first full-length feature film.
Selected filmography:
1996 –  The Beginning –short film
1999 –  The Tenth Planet –short documentary film
2000 –  With Love –short film
2001 –  Paul –short film
2001 –  Soulmates –short television drama
2004 – The Experience of Difference –documentary film
2005 –  Seeking the Lost Love –documentary film
Co-producers
RTV Slovenia
Jadran film Zagreb
Technical services
Film studio Viba Film
Co-funding
Slovenian Film Fund
Distribution
Ljubljanski kinematografi (Ljubljana cinemas)
Technical data
Format: 35 mm; 1:1,85; 24/fps, color
Dolby digital 5.1
Festivals and awards
•    Festival of Slovenian Film, Portorož, 7-14 October 2007, Slovenia.
Award for Best Script
Award for Best Director
Award for Best Actor
Award for Best Actress
Audience Award for Best Film
•    Academy Award »Viktor« for Special Achievements, 15 March 2008, Slovenia.
More then 180 000 Viewers
•    Retrospective of Slovenian Film, Brussels, 1-3 March 2008, Belgium.
•    Film Festival »Picture Europe«, Madrid, 11-17 April 2008, Spain.
•    Film Fest Munich, Munich, 20-28 June 2008, Germany.
•    Retrospective of Slovenian Film, New York, 16-22 July 2008, USA.
•    4th Moveast International Film Festival Pécs, Pécs,  7-14 October 2008, Hungary.
•    24th Warsaw Film Festival, Warsaw, 10-19 October, Poland.
•    Winter Festival of Eastern European films, Edinburgh, 13 November 2008, UK.
•    European Union Film Showcase, Washington, 6-25 November 2008, AFI, USA.
•    South East European Film Festival, Los Angeles, 30 April – 4 May 2009, USA.
Critics Award for Best Film
•    »Zlata ptica« Award for Best Film 2008, Ljubljana, 6. maj 2009, Slovenia.