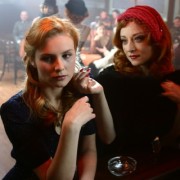 Genre: drama
Duration: 110 min
Year: 2005
Screenplay: Matjaž Klopčič
Director: Matjaž Klopčič
Cast: Kristijan Guček, Iva Krajnc, Igor Samobor, Nataša Barbara Gračner, Polde Bibič, Ivanka Mežan, Barbka Cerar, Ivo Ban, Dare Valič,…
Links: www.film-sklad.si, www.kolosej.si.
Story
"Ljubljana the beloved" is a tale about growing up in Ljubljana during a dark period in its history. The main protagonist is Oton, a young boy who grows into a young man while he watches his hometown change in the period from 1934, when King Alexander is killed in France, through first the Italian and then the German occupations of the city, until the arrival of communism. Oton's path crosses those of numerous people closely involved with the city and its life. Historical events dramatically impact the lives of Oton's first love Marjana, the Italian officer Giorgio, who Marjana falls in love with, the prostitute Anita, the star of the nightclub The Purgatory, the bag lady Shirley, the porter Jaka, and several other characters whose lives form the mosaic of the period.
Oton's story begins at a point when he learns the difference between men and women; the experience makes him swear eternal love to his friend Marjana. His hopes are dashed, however, when the Italian occupying forces invade Ljubljana in 1941. At that time, Oton is in grammar school. He hates the Italians and joins the underground resistance movement. Marjana slowly changes and forgets the company she used to keep. She draws away from Oton as she falls madly in love with Giorgio, an Italian officer lodging in the apartment of Oton's parents. With time, the Italian occupying troops become increasingly brutal. The only place where nothing seems to change is the nightclub Purgatory, where both the townspeople and the Italian soldiers come to forget about the horrors of the war. The Purgatory is a reflection of the society's degeneration and the wartime decadence.
The film is partly autobiographic and aims to portray the former life of Ljubljana that barely survives in our memories.
The film will be dedicated to the one hundred years of Slovenian film, to the sixtieth anniversary of the liberation of Ljubljana, and to the writer Rudi Šeligo.
Gallery
Crew
Screenplay: Matjaž Klopčič
Director: Matjaž Klopčič
Director of photography: Tomislav Pinter
Editor: Janez Bricelj
Composer: Urban Koder
Sound Recordist: Jože Trtnik
Sound Designer: Boris Romih
Production Designer: Matjaž Pavlovec
Costume Designer: Leo Kulaš
Make-up Artist: Mirjam Kavčič
Producer: Franci Zajc
Cast
| | |
| --- | --- |
| Oton | Kristijan Guček |
| Marjana | Iva Krajnc |
| Giorgio | Igor Samobor |
| Anita | Nataša Barbara Gračner |
| Martin Krpan postrešček Jaka | Polde Bibič |
| Shirley | Ivanka Mežan |
| Sonja | Barbka Cerar |
| King | Ivo Ban |
| Mayor | Dare Valič |
| Father | Slavko Cerjak |
| Mother | Mirjam Korbar Žlajpah |
| Grandma | Štefka Drolc |
| Grandpa | Zlatko Šugman |
| Aco | Matija Vastl |
| Katehet Žužek | Ivo Godnič |
| Vasko | Janez Škof |
| Manager Vic | Demeter Bitenc |
| Profa | Mojca Funkl |
| Guido | Daniel Malalan |
| Brivec | Uroš Smolej |
| Ernest | Uroš Furst |
| Klotilda | Jožica Avbelj |
| Nemški oficir | Vlado Novak |
| Slavka | Maja Gal Štromar |
| Boštjan | Uroš Potočnik |
| Ati | Alojz Svete |
| Bojan | Uroš Kaurin |
| Cipa | Vanja Plut |
| Ivo | Blaž Valič |
| Eli | Alja Kapun |
| Janez | Rok Kunaver |
| Printing apprentice | Toni Cahunek |
| Novak | Romeo Grebenšek |
| leader | Gašper Jarni |
| Italian solder | Rafael Vončina |
| pianist | Silvester Stingl |
| dancer | Lea Menard |
| wizard | Mihael Bellis |
| young singer | Ana Dežman |
| young Oton | Jan Juvan |
| young Marjana | Maruša Rozman |
Matjaž Klopčič
film and television director, screenwriter, film set designer, designer and writer; until 2004, Professor at the Ljubljana Academy of Theater, Radio, Film, and Television.
He was born on 4 December 1934 in Ljubljana. In 1959 he took a university degree in architecture. He got hands-on experience in filmmaking in Paris (J. L. Godard, Bande à part, 1964). His first job on a film set was that of assistant set designer, but he called attention to himself with his short films (On the Sunny Side of the Street, The Romance about a Tear, Ljubljana the Beloved), and then with his first two feature-length movies, On the Run and On Wings of Paper, which launched him among the prominent representatives of the Yugoslavian art film. A selection of his writings on cinema was published in the book entitled Films I Love (Ljubljana: SK, 1999).
Filmografy
1967 – On the Run
1967- On Wings of Paper (Silver Arena Award for Film Director)
1969 – Funeral Feast
1970 – Oxygen (Bronze Arena Award for Film Director)
1973 – Blossoms in Autumn (Gold Arena Award for Best Film Director)
1974 – Fear (Gold Arena Award for Best Film Director)
1976 – The Widowhood  of  Karolina Žašler (Silver Arena Award for Film Director)
1979 – Temptations
1984 – Heritage
1987 – My Dad the Socialist Kulak
Co-producers
RTV Slovenia
Jadran film Zagreb
Municipality Ljubljana
Technical services
Film studio Viba Film
Co-funding
Slovenian Film Fund
Distribution
Ljubljanski kinematografi (Ljubljana cinemas)
Technical data
Format: 35 mm; 1:1,85; 24/fps, color
Dolby digital 5.1
Festivals and awards
•    Special Award at the 8th Festival of Slovenian Film in Portorož, 2005.
•    28. Moskva Film Festival, selection form whol World (23. June – 2. July 2006)
•    53. Pula Film Festival (15.-22. July 2006)
•    II vento de cinema (Film wind), land Procida-Italija (21.-25. September 2006)
•    I Milleocchi (Trst, September 2006).