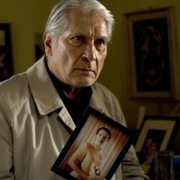 Genre: Historical Romance Drama
Duration: 101 min
Year: 2010
Screenplay: Goran Vojnović
Director: Goran Vojnović
Cast: Boris Cavazza, Mustafa Nadarević, Nina Ivanišin, Moamer Kasumović, Francecso Borchi,…
Links: www.film-sklad.si, www.kolosej.si.
Official page: www.piranpirano.com

Pictures, videos: ftp://ftp.arsmedia.si, (username: arsmedia-press, password: Arsmedia). For FTP access please use clients such as Filezilla, CyberDuck…
Story
Piran – Pirano tells a story about three individuals and how their destinies are unusually intertwined. An Italian Antonio, a Bosnian Veljko and a Slovenia girl Anica face the terror of war as children and each of them become war's victim in their own way. Half a century later their paths cross again and last days of war, fear, despair, love and inexplicable emotions live up again – this time because Antonio returns to Piran to see his place of birth once again before he dies.
Film's Message
The film is set in a town with two names, with Slovenian one and Italian one. In a town where in a house two old men run into each other. Two men who were once joined because of the love for one girl and then separated by everything that separated people during World War II in those places: languages, ideologies (fascism, communism), and affiliation to different fighting sides (aggressors or partisans). It was because of love for the same girl that the young partisan could not shoot the young Italian, and it was for the same reason that they parted while running away from partisans. As old men they meet again, but they still do not understand each other, now only because they speak different languages. Recalling memories helps both of the men realize that this house, in which the Italian lived as a child and was banished from, and in which the partisan found his second home, actually does not belong to either of them. It is only a house of their many memories, reminding them the only thing left for them is to find "a place of rest ". Nevertheless, this is not so much a film of nostalgic past, but so much more about fundamental question: How to die in peace?
Written by: Zdenko Vrdlovec
Ljubljana, junij 2010
Gallery
Crew
Screenwriter: Goran Vojnović
Director: Goran Vojnović
Director of Photography: Radovan Čok
Music by: Tamara Obrovac
Set Designer: Urša Loboda
Costume Designer: Zvonka Makuc
Make-up Artist: Mirjam Kavčič
Editor: Janez Bricelj
Sound Recordist: Jože Trtnik
Sound Designer: Boštjan Kačičnik
Production Manager: Frenk Celarc
Producer: Franci Zajc
Cast
| | |
| --- | --- |
| Antonio | Boris Cavazza |
| Veljko | Mustafa Nadarević |
| Anica | Nina Ivanišin |
| Young Veljko | Moamer Kasumović |
| Young Antonio | Francesco Borchi |
| Commander | Peter Musevski |
| Nina | Nataša Tič Ralijan |
| Roberto | Janko Petrovec |
| Mauro | Daniel Veznaver |
| Monica | Laura Podgoršek |
| Ettore | Marko Sosič |
| Laura | Jožica Avbelj |
| Miha | Gregor Zorc |
| Marko | Matej Puc |
| Štefan | Miha Nemec |
| Mira | Miranda Caharija |
| Mojca | Maja Gal Štromar |
| Katja | Urška Bradaškja |
| Danica | Marijana Brecelj |
| Borut | Matevž Biber |
| Mitja | Kristijan Guček |
| Uroš | Primož Forte |
| Waiter | Aleksandar Rajaković Sale |
| Dimko | Dušan Jovanović |
| The Spaniard | Slobodan Maksimović |
| Darjan | Gojmir Lešnjak Gojc |
| The Salesman | Gregor Baković |
| Erna | Miriam Monica |
| The Priest | Iztok Valič |
| Marija | Minca Lorenci |
| Cene | Marko Bajželj |
| Giordano | Franko Korošec |
| Luka | Jure Kopušar |
| German Soldier | Marko Šantić |
| Marjan | Drago Milinović |
| Lojzka | Nika Rozman |
| Mitja | Denis Černe Berčič |
| Italian Soldiers | Marko Juratovec |
| | Martin Turk |
| | Jurij Gruden |
| others… | |
Goran Vojnović
Goran Vojnović was born in 1980 in Ljubljana, Slovenia. He graduated from University of Ljubljana – Academy for Radio, Film and Television, in Film and TV Directing. During his studies Goran directed 2 short films (Fužine zakon – Fužine Rules and Sezona 90/91 – Season 90/91), both of which received international awards and were screened at many renowned international film festivals. After finishing his studies Goran co-wrote a screenplay with Marko Šantić for a film Sretan put, Nedime – Bon Voyage, Nedime and received best screenplay award for it at the Vienna Film Festival. This film became one of the most successful short films; it received Sarajevo Heart Award and was nominated for the European Film Academy Award. In 2006 Goran directed a short film Moj sin, seksualni manijak – My son, a Sexual Maniac (produced by Arsmedia), which premiered at Cinema Jove Festival, Valencia, Spain. In 2008 Goran made another short film, entitled Kitajci prihajajo – The Chinese are coming (produced by RTV Slovenia), which received special jury mention at the Slovenian Film Festival.
In 2008 his first novel, entitled Čefurji raus! – Čefurji Out!, was published and it gained wide public recognition, numerous good critical reviews, it has already been reprinted many times and translated into many languages. Goran's Čefurji raus! – Čefurji Out! received a prestigious Prešeren's Fund Award and National Newspaper House DELO's  Award Kresnik for best novel of the year 2008. The novel was made into a hugely successful theatre performance directed by Mare Bulc and shown for over 200 times already. In collaboration with renowned Bosnian screenwriter Abdulah Sidran Goran is just turning his successful novel into a screenplay for a feature film.
As a film publicist Goran has in the past years written for all important film magazines in Slovenia, amongst them he wrote for Ekran, and he still publishes his column in a daily Dnevnik and in a weekly Žurnal. In 2010 Student's Publishing House published a collection of his columns entitled Ko Jimmy Choo sreča Fidela Castra – When Jimmy Choo meets Fidel Castro.
Co-Producer
Jadran film Zagreb
Radiotelevizija  Slovenija
Techical support
Film Studio Viba film
In Collaboration with
Piran Community
Co-Funding
Slovenian Film Fund
Distribution
Kolosej – zabavni center
Festivali in nagrade
•   Slovenian Film Festival, Portorož, 2010 Slovenia (Vesna award for best screenplay, best editing, best women act)
•   Cairo International Film Festival, Cairo 2010,
•   Trieste Film Festival 2011,
•   Cinequest Film Festival 2011, San Jose,
•   See a Paris 2011.
•   Trieste Film Festival, 20.-26.1.2011
•   Cinequest Film Festival, San Jose California, USA
•   Festival »See a Paris« 12. – 17.4. 2011-08-29. Award for best man acting (Mustafa Nadarević), award for best film production.
•   Festival Eurocine, 9.5.2011
•   Playing in Brussels, Madrid, Milano and Luxemburg
•   Film Festival Innsbruck, May 2011
•   Eu Film Festival at Ukraine, June 2011
•   Pula Film Festival 9.-23.7.2011 projection in front of ten thousand people and it was the only foreign film which was in competition for best public film. Film achieve the 3rd place whit high points 4,51.
•   The International Film Summerfest, Dures, Albania 27.8. – 2.9.2011 in competition program.
•   27. Alexandraia International Film Festival 10. – 14.9.2011 in competition program.
•   21. Film Festival Cottbus, 1.-6.11.2011, award for "The Dialog Prize".