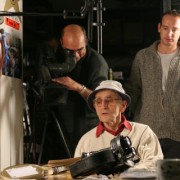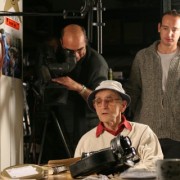 Genre: full-length documentary film
Duration: 77 minYear: 2007
Screenplay: Jurij Gruden
Director: Jurij Gruden
Cast: Egon Kraus, Egon Piščanec, Aljoša Žerjal, Franc Fabec, Milan Pahor, mag. Alojzij Teršan, Božidar Zečević, Jožica Šparovec, Mirjam Koren, Roman Marinko …
Links: www.film-sklad.si.
Story
Kovac and Dara are a boy and a girl who had a troubled childhood. They end up in a borstal and get attached to each other only to be separated one day. Ten years later, now in their late teens, they meet again. Kovac is a gangleader and after various misdemeanours of his gang amount to an accidental felony, his and Dara's paths cross again. Dara has been living a lonely and secluded life where reality often gave way to her dreams. Reunited, they both see this as an opportunity to brak away from the past and find happiness together.
Gallery
Crew
Screenplay: Jurij Gruden
Director: Jurij Gruden
Director of Photography: Radovan Čok
Editor: Janez Bricelj
Music Selected by: Anton Natek
Sound Recordist: Jože Trtnik
Sound Designer: Boštjan Kačičnik
Producer: Franci Zajc
Featuring
Edi Šelhaus
Egon Kraus
Egon Piščanec
Aljoša Žerjal
Franc Fabec
Milan Pahor
mag. Alojzij Teršan
Božidar Zečević
Mirjam Koren
Roman Marinko
Jožica Šparovec, Muzej novejše zgodovine Slovenije
Jurij Gruden
Born in 1975 in Trieste. In 1996 he entered the Academy of Theatre, Radio, Film and Television; film and television direction. During his studies, he shoot short documentary Images of the City (1998), followed by short feature films You Need to Love Somebody (2001) and Moving Away (2002). Besides feature and documentary films, he also shoot television dramas Triangle (2001), Waiting (2003) (Babič Award for Short Student TV Drama), and Enco, Thank You! (2003).
The full-length documentary film Edi Šelhaus »I Was There«, is his first major project.
Used photographic material:
National Museum of Contemporary History of Slovenia, which holds most of the estate of Edi Šelhaus
Personal Archive of Edi Šelhaus
Personal Archive of Egon Piščanec
Slovene National Library of the Studies, Trieste
– History Section; photos of the victims of Škedenj – author Marjan Pfeifer
Institute of Contemporary History, Ljubljana
Used film material:
Slovene Film Archives (Archives of the Republic of Slovenia)
Filmske novosti Beograd
Jugoslovanska kinoteka Beograd
Archives and Documentation Service of the Television of Slovenia
Co-producers
RTV Slovenia
Kinoatelje Gorica
Technical services
Film studio Viba Film
Co-funding
Slovenian Film Fund